Shopping Basket
Your Basket is Empty
There was an error with PayPal
Click here to try again
Thank you for your business!
You should receive an order confirmation from Paypal shortly.
Exit Shopping Basket
Among the finishes we offer at weird science concrete is terrazzo staining. If you have an old cement terrazzo floor and it has a lot of stains or damage,or maybe you just don't care for the color,don't give up on it. These pictures illustrate the drastic change we can make to old cement terrazzo floors. You can still see the stones because the stain mostly affects the areas between the stones,allowing the beauty of a terrazzo floor to show through. And if the terrazzo just isn't your thing,then we offer concrete overlay systems that can be applied over the terrazzo that may better suit your taste.
While you're in downtown Sarasota check out another floor recently installed by Weird Science Concrete at the new Campbell Custom Cabinetry showroom at 1544 1st street. Weird science concrete installed black polished concrete floors throughout the space there. For some of the best cabinets that can be found anywhere go see them as soon as you can. On top of having an awesome product they are some of the nicest people you will ever meet. Visit they're website at: 
http://campbellcabinetrydesigns.com/
Go check out the floors at the new Hydr8 Sarasota location on 1539 2nd street in downtown Sarasota.They are stained a light walnut brown with a clear epoxy finish. The concrete was covered with tile and covered several times over the years and has a lot of character. Check out the Hydr8 facebook page t see what they offer! https://www.facebook.com/wehydr8you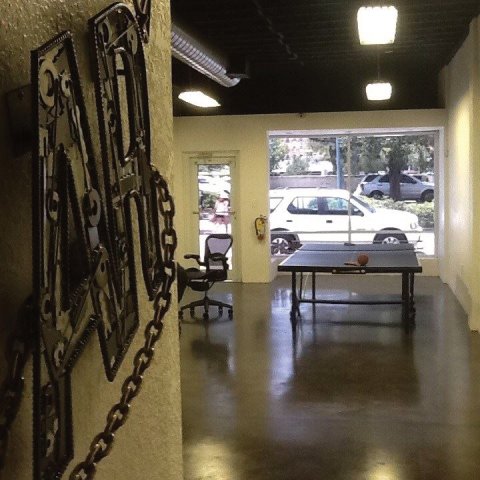 While you are at the Hydr8 location go next door to the new Adrizer location to see their floors,also installed by Weird Science Concrete. They are also a stained concrete,dark gray with a clear epoxy finish. -check out what they offer at- 
http://adrizer.com/
 It's located just next door to Hydr8 which is at 1539 2nd street in downtown Sarasota 
We have been waiting for 3 years to grind the paint of this floor. An older condo from the 60's, it has paint, cracks,carpet glue and tack strip holes that have to be addressed. We will return to finish the floor after drywall work and some painting is done. The floor will be resurfaced with a colored cement microfinish and sealed with a low gloss , low VOC sealer.

Stay tuned for updates...
Here's the "after" picture picture of that moldy wood floor after I labored and toiled for 2 weeks! It polished up nicely. Also color was added several times to achieve the gray and brown look. This concrete looked really cool I thought. Many spots had exposed aggregate coming through to add more character. This floor has an 800 grit polish. Most of the polishing was done wet.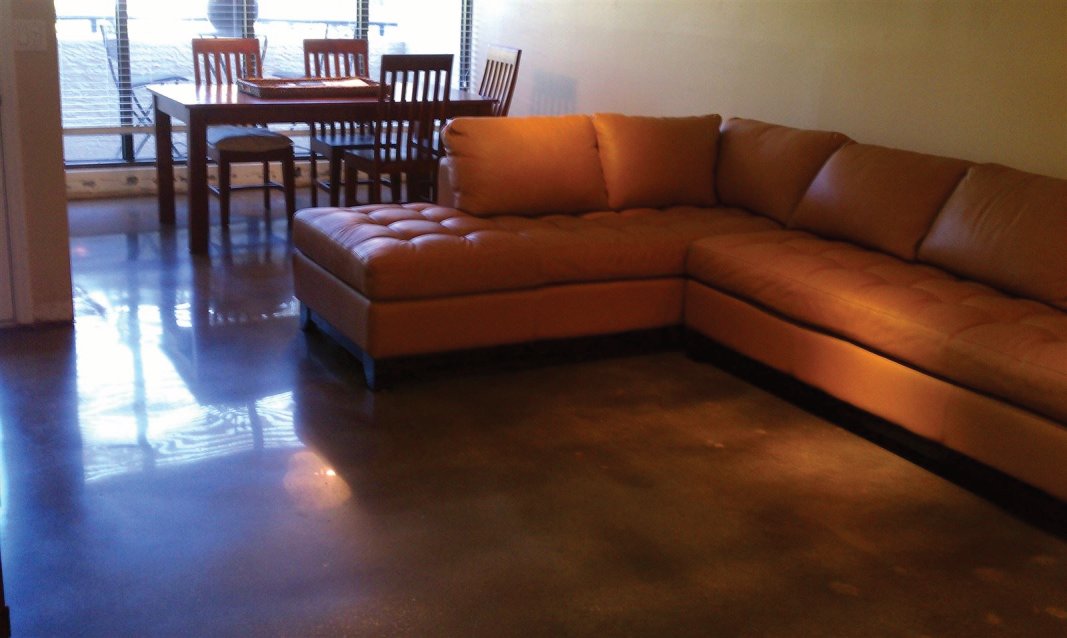 Tearing out a wood and tile floor.Lots of mold under the wood due to water creeping in from the exterior windows. We are hoping to do polished concrete if the floor lets us. There's a ton of holes from carpet tack strips as well as random holes in the center part of the floor so its taking awhile to prepare this floor.
/